For Sale
Redneck Convent Marsh Push Pole Foot Attachment - 10.5in Boat Pole Metal Marsh Foot Hunting and Fishing Push Pole Attachment
MOVE QUICKLY AND QUIETLY IN SHALLOW WATER: Use the Redneck Convent Marsh Pole Foot Attachment to help you push your boat through marshes, swamps, and other shallow waters; Ideal for quietly stalking shallow hunting waters for fish and game DUCK FOOT DESIGN: 7.5 inch (19 cm) ...
eBay
Stiffy / FLORIDA BACK COUNTRY POLEMATE BELT WEARABLE PUSH POLE HOLDER ...DIRECT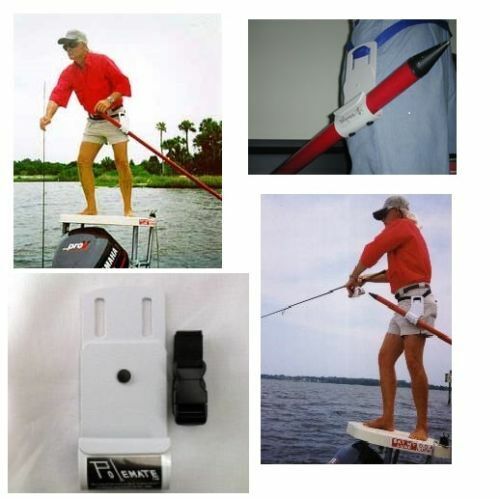 BUY DIRECT FROM YOUR FRIENDS AT FLORIDA BACKCOUNTRY INC.FREE SHIPPING POLEMATE THE ORIGINAL HIP-WORN PUSH POLE HOLDER Our products unique features:1. Stows your push pole quick and easy:Getting that 20-foot push pole stowed & out of your way is as easy as putting your hand ...
For Sale
The Git-A-Long Pole is a telescopic push pole made of super strong extruded aluminum. It has metal duck feet for stability. Collapsed it is 7-3 and fully extended it is 12-6. Works great - I pushed my 19 Ranger bass boat all over the back waters of the Mississippi River with ...
For Sale
PUSH pole TELESCOPES TO VARIOUS LENGTHS NEVER USED WHEN U DRIFT INTO SHALLOW WATER IT WILL HELP U GET BACH IN THE CHANNEL WITHOUT RUINING UR PROP ON A SAND BAR IT IS APROX 4 FOOT 8 CLOSED 8FOOT 2 LONG EXTENDED IN VERY GOOD UN USED CONDITION IT IS SOLID OPENS CLOSES ...
For Sale
Telescoping Superstick fiberglass push pole. 9-17. Good condition only used twice. Includes mounting brackets for your boat.
For Sale
The pole is 7 ft and heavy square tubing and the cart has 4 hard tires $25 each or $40 both
For Sale
$250 OBO22 G Loomis Graphite Push Polewith bridged foot in great shapewords fishing, fly fishing, boat
For Sale
Two Telescopic duck bill push poles, like new condition 25.00eacash please.