For Sale
MAXIPRESS - Fully ManualThe MAXIPRESS is a multipurpose large format manual heat transfer press intended for the imprinting of a vast range of different materials. The MAXIPRESS combines an oversized platen with a low production oriented framework with a single loading table configuration. ...
For Sale
Uninet i550 printer with less than 100 sheets ran. Comes with iColor ProRip and iColor SmartCut software.Also selling a geo Knight DK20S.Will sell both for $4600 or separately, printer $3200 and press $1400.
For Sale
Geo-Knight K20 16x20 auto clamshell heat press Im excellent condition. Only reason for selling is that its fully deprecated on my taxes and I bought a new one. Cash only no trades. Replies without a phone number will be ignored. Thanks for looking.
For Sale
Geo Knight Heat Press DK20 16"x20" Heat Transfer Press
eBay
Geo Knight Heat Press DK16 - 14"x16" Clam Shell Machine w/ Digital Controls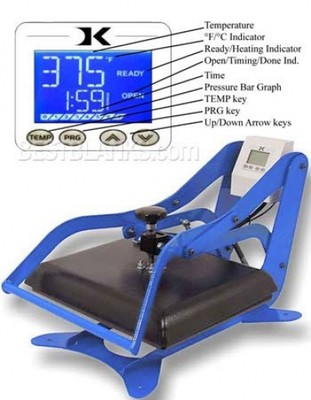 NEW - Geo Knight DK16 Heat Press - Now shipping with "All-Thread" drop-on table! Fully thread garments from the Front OR Back. The drop-on pull-pin attached tables (comes with 14x16 Table - Additional tables available for purchase) are rotatable and allow for sleeve platens ...
For Sale
Barely used. Purchased 852019 for $1794.90.