For Sale
Yakima Full swing Bike RackIn good conditionFull swing bike rackSet up for 3 bikes but can hold 4 bikesFits 2 receiverIncludes 2 keys for receiver lock and bike cable lockIncludes 2 bolts for different receiver widthsCash only saleI dont need any tradesThanks for looking
For Sale
Excellent condition Kuat Sherpa 2.0 tray style bike hitch carrier. Perfect lightweight hitch bike carrier that offers contactless and secure transport for your bikes. Rack tightens in your hitch for minimal sway while driving.Also including Kuat Swing-Out arm with custom cargo ...
eBay
Swing Bike swing bike swingbike VTG Swing Bike bicycle Sticker LAST 3 AVAILABLE!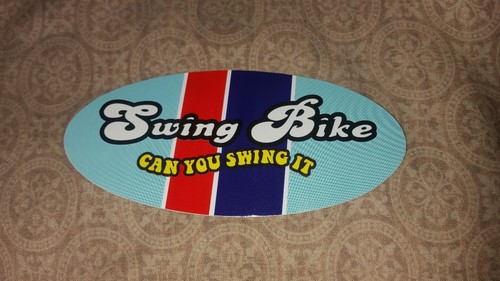 This stickers are made for last, with the finest materials and are vinyl made and have a UV coating for the finish.Aproximate meassure 5 1/4 . T-shirt, cap and/or bottle not included. Thanks for watching.
For Sale
Yakima Full Swing bike rackGreat conditionStored indoorsComes with keysstraps and a few extrasHas built in bottle openerIntegrated hitch lock and bike lock same keySwivels out of the way to open a tailgate or hatchbackCan hold 4 bikesSells for $550 newShoot me an email if interested ...