For Sale
Full sheets of slate chalkboard reclaimed from an old school. heavy. 4x6 and 4x5 have about 12 sheets. price is per sheet I have been seeing these posted at $25 sq ft. These are much below those prices.
For Sale
vintage Slate Chalkboard. Excellent condition. Width 26 Length 20 Framed in solid wood. Front and Back use. Front has lip for chalk.
For Sale
Vintage Frameless Slate Chalkboard Sign (8"x12") - Decorative Hanging Chalk Board for Rustic Wedding Signs, Kitchen Pantry & Wall Decor
REAL NATURAL SLATE Natural unfinished slate stone has a unique character making each unframed chalkboard sign perfect for vintage and rustic decor. Because it is made of real stone, the surface is slightly textured. DIMENSIONS Large frameless chalkboard measures 12" x 8". Includes ...
eBay
Antique Primitive Childs Dbl Side Wood Slate/Chalkboard One Room School House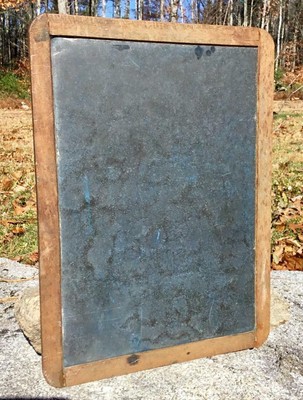 This is a antique primitive childs one room school house double sided wood/slate chalkboard. It is approximately 14 1/2 inches by 10 1/2 inches. The wood is a beautiful dark tone. In good vintage condition with some slight wear from use along with one corner with some wood ...
For Sale
Giant pile of slate over 80 sq feet. From 1930s chalkboard.
For Sale
14 x 19 artist slate $10Has a hanger on the back. Awesome to add character to a nursery or for gifts