For Sale
I have for sale the best deal you will find on a Portable Rebar Cutter made by Diamond. The model number is a DC-16W. It works great and is being sold very cheap at just $399 this tool retails for around $1,500 new. This portable heavy-duty rebar cutter will safely, efficiently, ...
For Sale
The original owner of Willard rebar cutter and rebar bender. Made in the USA. Cuts and bends rebar up to size 6. Good condition $285.00. Please call NO TEXTS will be answered.
For Sale
NEW Portable - Cordless Rebar Cutter. Can cut up to 5 grade 60 rebar. Nice tool to have around for cutting metal, rebar, etc.Thankstag construction, concrete, work, tools, labor, rebar, steel, cut, saw, chop, iron, artisan, blacksmith, ornamental worker
For Sale
Happybuy 1350W Electric Rebar Cutter 7/8Inch Hydraulic Rebar Cutter 110V Rebar Cutter 3.5-4.5 Seconds Cutting (7/8" 22mm)
✔ Wattage: 1350 W; Voltage:110V 50/60Hz , 8Amps ; ✔ Rebar Cutting Range:0.16" (4mm)-7/8"(22mm) #7 grade 60 rebar and round bar ; Cutting Speed :3.5-4.5 Seconds. ✔ The electric rebar cutter can turn any angle of rotation to adapt to different cutting angles. ✔ Rapid ...
eBay
Klutch Rebar Cutter and Bender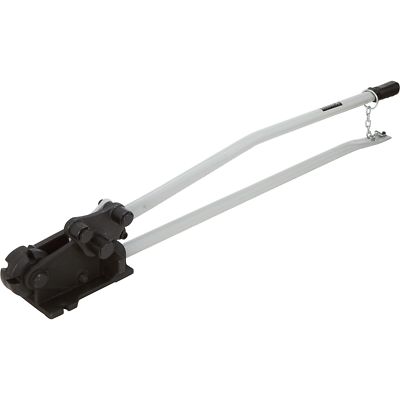 The Klutch rebar cutter/bender is designed for cutting and bending concrete reinforcement rods. Unique design has bending dies to perform 90 and 180 bends. Features alloy steel blades and long handle for easy rebar cuts. Cutting Thickness in. 5/8, Works With Rebar, Dimensions ...
For Sale
NEW - NEVER USED Multi-Quip Electro Hydraulic Rebar Cutter - Model HBC-25N. This heavy duty rebar cutter bender is still in original wood container with receipt showing purchase price of $1700. Will take $1195
For Sale
Rebar Cutter Bender .$200.00
For Sale
one is a cutter and bender the other is just a cutter. they are used but in working order. selling both together for 250 firm. cash only must pick up. text me at
For Sale
Diamond dbd 25-XRebar Bender. Bends 3,4,5,6 and 7 Cutter cuts all of the above as well. Very good shape. David,
For Sale
Diamond DC-25X. Cuts up to 1rebar any grade. OBO
For Sale
Metal Lumber Cutter Shears from Republic Steel. Might also cut some rebar and angle iron. Approx. 40 long. $50 or best offer. 44O-452O