For Sale
Did he hand sweeper Im selling it for $50 the power sweeper has been reconditioned Im selling it for 175
For Sale
Bissell Commercial BG477 Push Power Sweeper - Manual
31" wide13.2 gallon debris containerErgonomic Push Handle Sweeps fine & course dirtSweeps wet & dry leavesSide rollers that make sweeping along walls an ease Belt free systemLight weight for easy use Stand up storage design for easy useComes with lubricant spray Roller brush is fiberglass
eBay
Walk Behind Power Sweeper Broom 196cc 6.5HP Gas Engine Sweeper Lawn Gravel Turf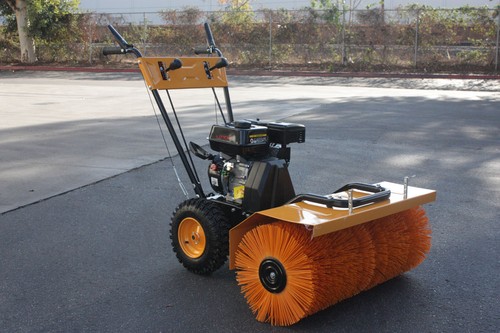 Walk Behind Power Sweeper Broom 196cc 6.5HP Gas Engine Sweeper Lawn Gravel Turf BRAND NEW!This walk behind self propelled power sweeper is fast and efficient. with 4 Speed forward and 2 Speed Reverse.  The 420 PRM brush cleans, polishes and smooths driveways, gravel, lawn, ...
For Sale
Stihl FS80R BRAND NEW Professional Power Sweeper, Autocut trimmer head, 8 Tooth Metal Blade attachments includedManual, WrenchUnit was never fueledAsking only $679 OBO
For Sale
Echo power sweeper. Used once.
For Sale
BRAND NEW IN THE BOXPLEASE CALL OR TEXT 2 cycle gasoil mixture, hand held power sweeper. Its ideal for cleaning lawns from with sand embedded, or walkways.14 wide hand held gas broom for cleaning boulevards and driveways.2.3HP, 1700W, 52cc, 2 Stroke Air Cooled Motor EPA Engine2 ...