For Sale
Did he hand sweeper Im selling it for $50 the power sweeper has been reconditioned Im selling it for 175
For Sale
Bissell Commercial BG477 Push Power Sweeper - Manual
31" wide13.2 gallon debris containerErgonomic Push Handle Sweeps fine & course dirtSweeps wet & dry leavesSide rollers that make sweeping along walls an ease Belt free systemLight weight for easy use Stand up storage design for easy useComes with lubricant spray Roller brush is fiberglass
eBay
Walk Behind Power Sweeper Broom 196cc 6.5HP Gas Engine Sweeper Lawn Gravel Turf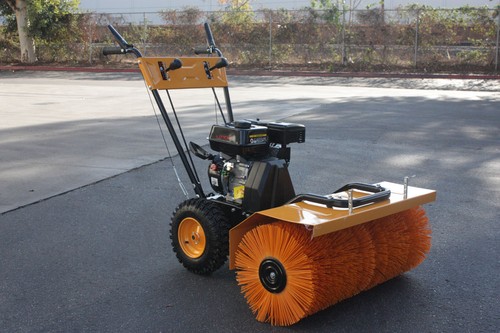 Walk Behind Power Sweeper Broom 196cc 6.5HP Gas Engine Sweeper Lawn Gravel Turf BRAND NEW!This walk behind self propelled power sweeper is fast and efficient. with 4 Speed forward and 2 Speed Reverse.  The 420 PRM brush cleans, polishes and smooths driveways, gravel, lawn, ...
For Sale
This is a steal , put a motor on and save 500 to 800 than buying one that runs,
For Sale
For sale...like new2018 Yardmax YP7065 28 brush 6.5 hp power sweeper...purchased new in April 2018, used during summer and fall...never used in 2019 or 2020Brand new with freight, $700-$850Selling for $600
For Sale
This a used yardmax power sweeper model number yp7065. powerful Briggs and Stratton gas engine starts right up.needs a tube in tire and the 2 plastic control levers need to be replaced or modified. these list between $700.00 and $800.00 new. 2nd pic is whats for sale, other ...
For Sale
Missing the 3 pointhitch parts, the broom cover and the drive chain. Broom spins freely, drive shafts are stiff, gear box moves freely. Asking $100I can load for you Call or text leave a voicemail-Mike
For Sale
SWEEPSTER 48 POWER BROOM SWEEPER, PTO DRIVE - TRACTOR MOUNT SNOWBLOWER, NO EMAILS , RON 515 3890
For Sale
24 POWER BROOM, JUST SERVICED, GAS 2 CYCLE NEW CARBURETOR RUNS GREAT