For Sale
Selling my mtd Kingston Heir 5 bass. Sounds and plays very well.Few minor scruffsscratches on the bass that I tried to get in the pictures. No scratching from pots. Frets are in decent shape. New Marcus Miller Dunlop Stainless Steel strings.Dug up details on the bass from ...
For Sale
Up for sale is an amazing USA Made Michael Tobias Designs 535 21 fret bass guitar. This bass had seen a lot of playing. According to Micheal, this bass was built 1262000 can provide email recipts from Micheal himself. This bass plays like butter with increadly low string action but NEEDS a ...
For Sale
ALL REPLIES THAT DO NOT INCLUDE YOUR PHONE NUMBER WILL BE DELETEDThis bass speaks with a clear, classic, authoritative tone. It is supremely versatile.This MTD 535-24 has5A Myrtle burl topPoplartulipwood bodymaple neckIndian rosewood fretboardLuminlay side dots comes with charging ...
eBay
Mtd bass Norm Stockton Saratoga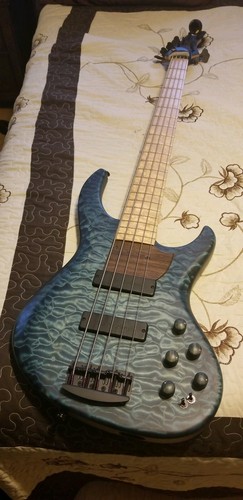 Mtd Norm Stockton Saratoga 5 string bass . Condition is Used but in great shape. Bartolini pickups/18v..Everything working 100%. No international shipping.
For Sale
This is a like new never sold MTD KA-5 Kingston By Tobias 5 String Bass Left Handed. This is left over inventory from my old music store. Has active electronics.Text me to see it