For Sale
Vintage yamaha SHS-10 FM digital keyboard with MIDI accessibility. Retail $180.Great condition. 25 sounds with many more style combinations.
For Sale
Yamaha Sonogenic Keytar with Power Supply, Strap, and MIDI Cable, Black
Includes keytar, power supply, strap, 1/8" Aux cable and MIDI Breakout cable Jam Mode lets you focus on playing the rhythms while the instrument worries about playing the right notes of songs 1/8" Aux input takes output from a portable music player, iOS device, mixer or computer ...
eBay
Roland AX-EDGE Keytar Synthesizer - Black with ST-AX2 Keytar Stand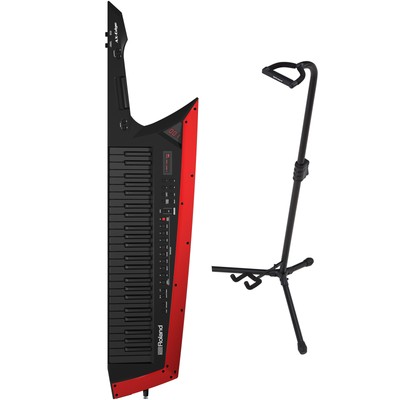 ... eBay Shop About Seller Page Roland AX-EDGE Keytar Synthesizer - Black with ST-AX2 Keytar Stand Item Description This bundle includes: Roland AX-EDGE Keytar Synthesizer - Black Roland ST-AX2 Keytar Stand for the AX-Edge Roland didn't cram generic preset sounds into the AX-Edge—it...
For Sale
ALESIS VORTEX MK 1 USBMIDI keytar CONTROLLER EXCELLENT CONDITIONAlesis Vortex MK 1. This is the non-wireless version. Used, barely, in a studio only. Mint condition includes strapexcellent working conditions,unit comes with USB cord and Guitar strap. Please see pictures for ...
For Sale
I have an Alesis Vortex keytar for sale. This keyboard is a wireless controller. Use your favorite sound module, or tones from your computer. fun to use on stage. Comes with strap, midi cable, wireless receiver, and downloadable software. Asking $150.00. Call or text . Thanks ...
For Sale
This is a used Alesis Vortex Wireless Keytar. It comes with a bag and Ill include a midi cable and a guitar strap. It can be used wirelessly with a USB dongle and a laptop but I dont have the stuff for that. Its in pretty good shape I bought it used on eBay a year ago or ...
For Sale
KEYTAR- Excellent condition just normal light marks and very small scratches, overall in fantastic shape.- Works perfectly, no functional issues- Sounds absolutely amazing It has all the tone and vibes youd expect from a high-end keyboard.CASE- Fiberglass reinforced nylon trigger ...
For Sale
A Yamaha Keytar, has its own synths and can be used as a MIDI controller. Have original packaging and everything it comes with. Got it a week or two ago but need to sell it for college financial reasons.
For Sale
Roland Edge Keytar brand new still under warranty, lots of internal sounds, plug in or wireless$950. with SKB hard shell case Keytar
For Sale
This Yamaha Keytar is in almost perfect condition. Yes , it still has the always lost battery compartment door. . No shipping. Includes the very hard to find original Yamaha shoulder strap. Price is firm. Might consider trading for firearms.
For Sale
One key is loose. Has pitch wheel. Guitar strap button. Get your 80s on. Sixx78 439 663sixx
For Sale
If youre looking at this ad ,This Synth is available Includes Gator Case and dust cover as picturedRoland didnt cram generic preset sounds into the AX-Edge, it has a curated sound-set driven by our latest technology. Onboard sounds are optimized for stage performance, to produce sounds that ...
For Sale
Excellent condition. No shipping. Might trade for Fender Squier Standard Telecaster.