For Sale
2002, 3000 psi, 8 GPM high pressure gas jetter and pressure washer mounted on 2002 Feather Lite Aluminum trailer with 3500 lb torsion axle, 300 feet of 12 inch jetter hose and power reel, 150 feet of 38 jetter hose on portable reel, 150 feet of 12 inch leader hose on hand real, ...
For Sale
M MINGLE Sewer Jetter Kit for Pressure Washer, 1/4 Inch NPT, 100 Feet Hose, Button Nose and Rotating Sewer Jetting Nozzle, Orifice 4.0, 4.5, 4000 PSI
Sewer jetting kit includes sewer jet hose, rotating sewer jet nozzle, button nose sewer jetter nozzle, coupler (female M22 to female 1/4`` NPT) and 1/4`` quick disconnect plug. Sewer jetting hose has inner tube, cover and reinforcement. Inner tube is made of thermoplastic polyester. ...
eBay
Sewer Jetter Trailer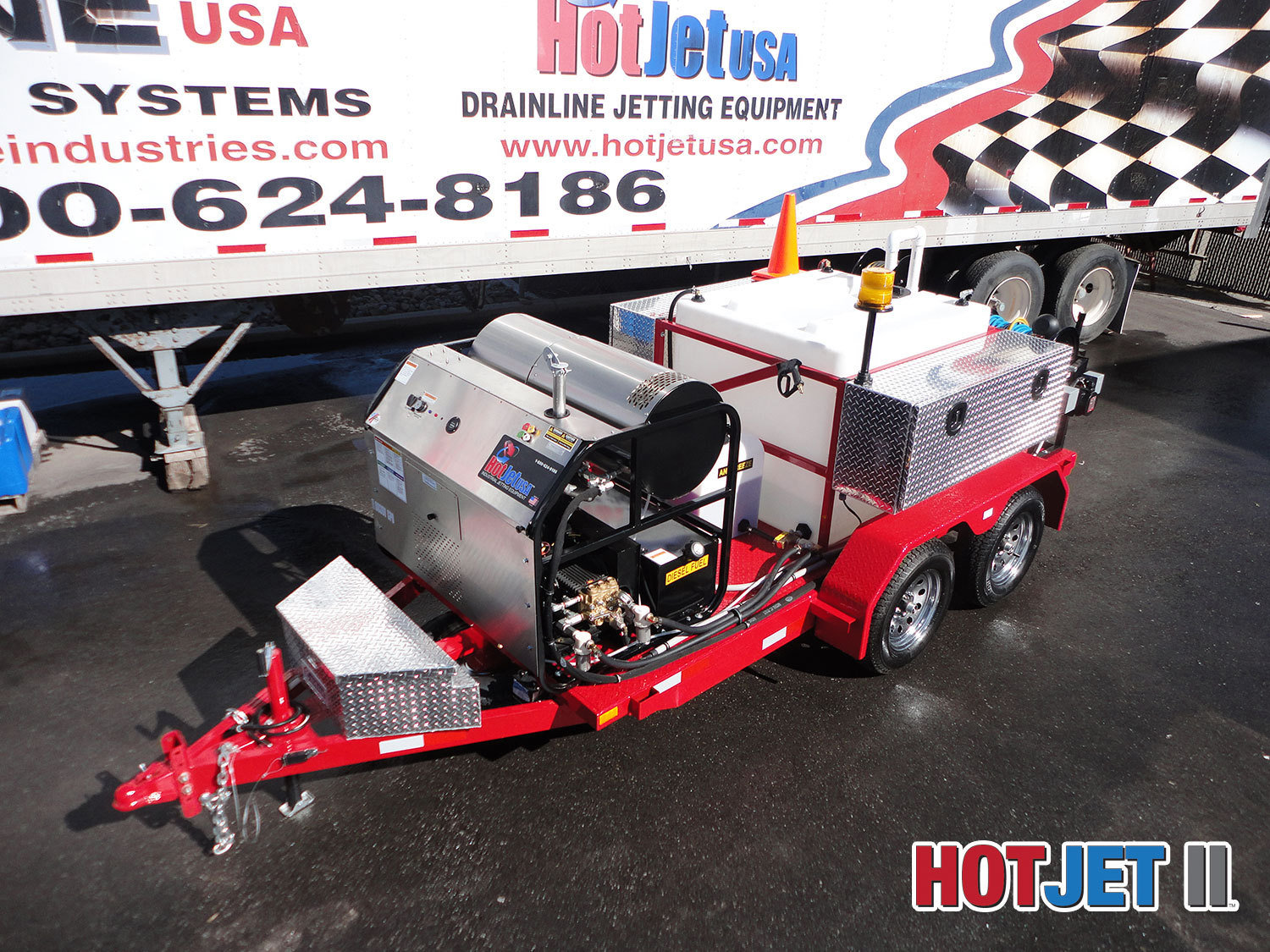 HotJet_Listing-LookFeel Trailer Mounted Sewer & Drain Line Jetter Hot/Cold Water Part No. HJ2TA1038HW HotJet II Premium Hot/Cold Jetter Tandem Axle 35 HP Vanguard Motor with Electric Start POWERFUL • BUILT TO LAST • BEST WARRANTY Full Remote Control Pump Saver System TBDS™ ...
For Sale
JETTER. I have several jetter trailer Mount truck pump Diesel and gas poly thanks 400 feet tall 34 and 1 inch hose pump nozzles and hose guides excellent for the Plumbers or the farmer weeping tiles prices start at $7000.
For Sale
This is a new in the box Ridgid sewer jetter hose and reel. Model number is 64902. Handle is not yet attached, is shown in a photo. Normally $2025 to $2350, I have one reduced to $800. Product FeaturesFor use with KJ-3100 and KJ-3000 Water JettersHose reel can be conveniently ...
For Sale
For sale is a clean Ridgid KJ-1750 pipe jetter. Equipped with a hose reel and 100 of easy flex 4400 psi hose. Used to jet clean pipes of 1-14 to 4 . Unit operation video available on u-tube. users manual available on the web. Please text or call 513-9 zero 7-6 six six 8 for ...
For Sale
Jetter Gear Wildwood Edition TrainDrive. One of the nicest overdrive pedals for the Trainwreck sound. Nice condition. No sales tax or shipping like ReverbeBay
For Sale
JETTER Have several jetters truck and trailer mount Ill have plastic tanks 400 ft of hose pump nozzles and all accessories gas and diesel engines prices start at $7,000