For Sale
97 CBR1100XX Blackbird, 43,9xxx moderately ridden miles by veteran street rider not beaten, two bros ss carbon fiber full system, factory pro jet kit, factory pro timing advancer, mosfet reg rect upgrade, rk pro chain, supersprox steel sprockets 1up 1down, good for over 185mph ...
For Sale
Great running and looking bike. Im the second owner and I bought it in 2004. Newer tires, oil change and air filter. Speaker system, under glow lights, phone charger, Corbin seat, aftermarket pipes, custom tail piece, and tinted windscreen. It will also come with cover, soft luggage, tank ...
For Sale
We have a very powerful and fast Honda CBR 1100 Super Blackbird XX for sale in very good condition.Not many of these still available.Runs very nice.Locking Side BagsLocking Top BagAdjustable WindshieldCustom SeatGPSHalogen Road LightsSpecs6 SpeedLiquid Cooled4.9 Gallon Gas ...
For Sale
1999 Honda CBR1100XX, Super Blackbird.5,400 Miles. Two adult owners. Current owner since July 2006.Yoshimura RS3 slip on exhaust, HeliBars handlebar risers, Zero Gravity touring windscreen. All stockoriginal parts included. Factory service manual. Tank Bra. Recent maintenance ...
eBay
HONDA Blackbird Stator Engine Cover 1999-2003 CBR1100XX 11321-MAT-E00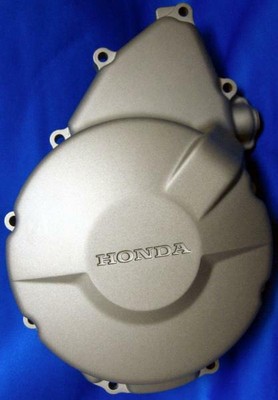 11321-MAT-E00 HONDA Blackbird Stator Engine Cover 1999-2003 CBR1100XX 11321-MAT-E00 Some of our listings feature Stock Manufacturer Photos. Actual color or application may vary from the photo. Please refer to the Title and Description for specifics. Please note, this listing ...
For Sale
Millennium Edition Blackbird CBR1100XX, In excellent condition 10k miles, Lowered, Computer is unrestricted, Pipe.. $4700
For Sale
... tour. This is the fuel injected version of the blackbird. It has delkevic carbon fiber slip on exhaust mufflers. Newer Michelin pilot road 4 tires. Stock chrome mufflers comes with the bike. Has a aftermarket Corbin seat and e
For Sale
1999 Honda CBR 1100XX. Ready to ride. Good looking and driving bike. Selling because I bought a new bike. Cash only. No trades. Must have proof of insurance to test drive. Serious inquiries only. $3500 firm.
For Sale
1999 Honda CBR1100XX Super Blackbird35,000 miles, second owner, never abused. Recent tires, chain, fork bearings, and overall tune up done by Cycle Services in Hyannis. Needs nothing, ready to ride.
For Sale
Runs and shifts like newvery fastall stock30k milesneeds nothing ready to gonot many left in good shape315 729 six six 51 cell$3500
For Sale
Runs and shifts like newvery fastall stock30k milesneeds nothing ready to gonot many left in good shape315 729 six six 51 cell$2900