For Sale
I am selling my fursuit for free because i do not want him anymore . i made him with my bare hands in the middle of april . Dequelle my fursona has stolen the spotlight ever since i created him .REQUIRED ZOOM SKYPE FACETIME CALL BEFORE I GIVE DEQUELLE TO YOU
For Sale
Dreamly soft huggable fursuit head with ocean blue follow me eyes. This head is indestructible over 70 hours of Labor of Love. Made by floppys flop tastic fursuits
For Sale
University Wildcat Mascot Head homemade, Never worn. One of you all tried Scamming me by trying to get a Google Code from my phone. You can give a big thank you to the lady who caused my price to go up $30.
For Sale
Hello im looking to sell my Full partial suit Dixie.She will come with her head,hands,Tail,an feet.Head can fit a very comfortable 23-24In.Hands are a one size fits all.Feet can best fit a women size 8.She will also come with a fully traditional ref,An a plush by Wonderlands arts on FB.Along ...
For Sale
Fursuit Costume LED Visor Glasses Cyberpunk Tron CyberGoth Goggles Cosplay Furries Furry (Red)
FURSUIT VISORS: Own a fursuit costume and looking for an amazing visor to wear with it then you have come to the right place AMAZING COSPLAY GOGGLES: These are just perfect for cosplay, parties and conventions to get the perfect cyberpunk look for your fursuit costume DUAL ...
eBay
Black White Cat Fursuit Partial Animal Costume Mascot Head And Tail!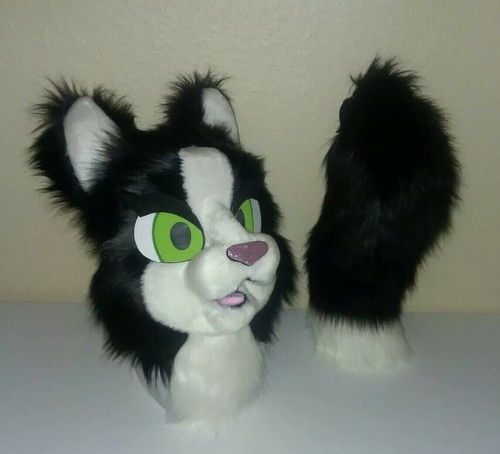 This is a black and white cat fursuit partial, Comes with the Head And Tail. The head base is a balaclava face mask, it has foam facial expressions and a sculpted foam muzzle. It is made with Arctic Fox Black Faux Fur, Gorilla White Faux Fur, and Short Pile White Faux Fur. ...
For Sale
Wolf maskcotfursit. Includes head, gloves, sleeves, and tail. Only worn twice and clean. Cash Only.