For Sale
Bernina 830 Record in Parsons cabinet with electric power lift. Sewing machine and cabinet must be purchased together I wont separate them. Im certain they were sold together originally, and the sewing machine DOES NOT have the red Bernina machine storage case or the Bernina ...
For Sale
Im selling my Bernina 830 Sewing and Embroidery machine. This machine is in mint condition. It was just inspected and certified by my local Bernina dealer. Everything checked out and performs like brand new. Only reason for selling is to upgrade to a new machine. Buyer will ...
For Sale
2012 830 LE1000 designs built inBSRMegahoop with master hooperVarious hoop sizesAvailable for pickup only in the Tucson AZ area.
For Sale
Sew-link Speed Control Foot Pedal + Cord for Bernina 830,831,800 Round pins Type
Speed Control Foot Pedal + Cord For Bernina 830,831,800 Round pins Type Foot Control Pedal For Bernina Type 213 Pedal #325.213.14 & Cord #329.164.04 foot control with lead cord Fits Bernina Sewing Machine: 540, 640, 642,707, 708, 709 foot pedal new
eBay
Bernina 830 sewing, Quilting, & Embroidery machine VERY CLEAN !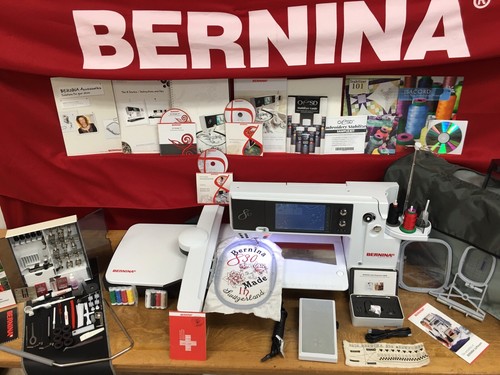 FOR SALE IS A 2010 BERNINA 830 SEWING,QUILTING, & EMBROIDERY MACHINE WITH THE BSR !! The Bernina 830 MSRP is $13999.99 and was sold NEW for $10999.99 SO GET IT FOR LESS THAN HALF PRICE TODAY !!!!!!!!! PLEASE CHECK OUT THE PHOTOS ! ! Everything you see in the photos is included ...
For Sale
Includes two additional software packages. Lots of accessoriesmaterial additionally available for additional charge.
For Sale
... Sewing Machine wCabinet Pick-up only Cash only